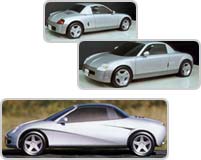 However, it was also common knowledge that although, a long wheel base gave straight line stability, agility was reduced as cornering power was effected. The designer team headed by Tadashi Nakagawa recognized that weight reduction was the key.

At that time no commitment to a new sports car had been made. Nevertheless, the team began applying all their ingenuity, determination and technical skills to develop a sports car weighing less than a thousand kilos. Various technical changes were made, for example, the rear and front overhangs were shortened, and the engine was made lighter by concentrating on torque rather than power.

No written plans were made as they worked in secret, in their own time and in their own garage. Even top management were unaware that a new MR2 was being designed. A car soon to represent the new challenging and innovating image of Toyota.