---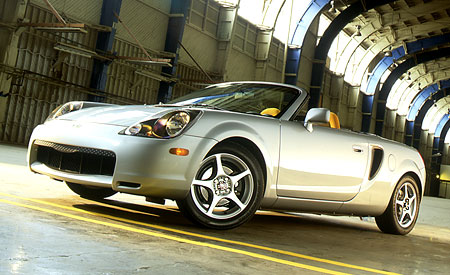 MR Excitement Returns To Toyota.
In every way, the MR2 Spyder is a completely new sports car for 2000. Begun from a "clean sheet of paper," it offers an exceptionally high level of responsive, nimble and precise handling, exhilarating all-around performance, unique and eye-catching style, a high degree of comfort and convenience for its two occupants, and Toyota's legendary reputation for reliability and dependability, all at an extremely competitive price. A great, fun choice for weekend getaways, or a refreshing and efficient alternative for a daily commute, the all-new, mid-engine MR2 Spyder is unique in the sports car market.

| | |
| --- | --- |
| | The MR2 Spyder engine develops 138 horsepower (bhp) at 6400 rpm, and 125 lb-ft of torque at 4400 rpm. Equipped with a standard 5-speed manual transmission, it has an EPA highway mileage estimate of 30 mpg. Engine features include Electronic Fuel Injection (EFI), Dual Overhead Cam (DOHC) technology and 4 valves per cylinder. |

Performance
Wild and mild natures co-exist in exhilarating harmony...

Any discussion of the MR2 Spyder powerplant must include four mysterious letters:VVT-i. Why? Because they are responsible for its impressive performance - and fuel economy ratings. VVT denotes MR2 Spyder's variable valve timing capabilities - the same type of technology that gives outstanding performance to Lexus vehicles. VVT means the timing of the intake valves continuously changes during acceleration. This enables the ideal blend of fuel and air to enter the combustion chambers for optimized performance, in terms of both acceleration and fuel economy. Now that sounds like a pretty smart thing for an engine to do, which explains why the "-i" stands for intelligence.

Mid-engine design helps place greatest weight at center of vehicle enhancing cornering abilities
1.8-liter, aluminum, DOHC 16-valve, 4-cylinder engine with variable valve timing with intelligence (VVT-i) delivers impressive power to weight ratio for optimum acceleration
Electrohydraulic rack-and-pinion power steering provides excellent road feel and quick turning capabilities helping to increase driving enjoyment
Light weight body and chassis helps maximize overall performance levels
Certified low-emissions vehicle helps minimize harmful exhaust emissions helping to make MR2 Spyder high-performance driving more environmentally friendly
5-speed manual transmission provides exceptionally smooth shifting and gear ratios ideally matched to maximize engine performance
138 horsepower, 125 lbs.-ft. of torque
Front and rear MacPherson strut suspension
15" alloy wheels - 185/55R in front, 205/50R in rear
Impressive FPA estimated fuel economy ratings - 27 mpg combined (25 city/30 highway)
Independent MacPherson Strut Front Suspension
The MacPherson strut front suspension features L-shaped lower control arms, as well as replaceable shock absorber cartridges that allow generous wheel travel over rough surfaces. The geometry has been designed for the optimum balance of ride and handling. The front suspension also features a ball-joint-type stabilizer link mounted to each shock absorber, which improves the efficiency of the stabilizer bar as well as handling precision and ride comfort.
Independent Dual-Link Strut Rear Suspension
The rear suspension features dual lateral links, a single trailing link and a MacPherson strut-type shock absorber for each rear wheel. The dual links provide precise toe-in control of the wheel for all situations of wheel movement, over any road surface, and during all phases of acceleration, braking and cornering. The dual-link rear suspension thus contributes to the level of handling precision required of a finely-tuned sports car. The rear suspension also features a ball-joint-type stabilizer link mounted to each shock absorber, enhancing stabilizer bar efficiency, ride comfort and handling response.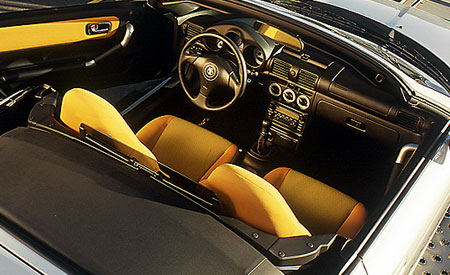 .
---